ed tags at Target are my downfall. Or my victory, whichever way you prefer to see it.
This time, I'm positive it was a victory that little $5.49 red sticker led me to.
Here is the red-stickered item that called out to me from the clearance rack - a plus size black and white striped expanse of fabric.
And here is what I made with it
I discovered some leftover lace trim in my closet and slapped that right on top of the ruffle. I think they're rockin'.
Similar knit ruffles are selling on Etsy for between $15 and $25, so I saved between $10 and $15.
But I haven't seen any with lace trim. ha!

I'm smitten.
Linking up at:
and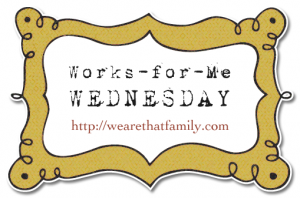 and